You've received a bad review. Even the best businesses do.
Here's the bad news: the average person checking your reviews won't stick around to read all of them. Statistically, most will read fewer than five. So solitary negative reviews can colour your online reputation.
The good news is that by knowing what to do about a negative review, you already have a leg up on your competitors and can take charge of your online reputation.
Removing Negative Reviews
The first instinct of most business-owners is to take a negative review and shoot it into space. This is technically possible, but usually unlikely to succeed.
For one thing, you have no more power as a business owner than you would as a regular Google user. The method of removing reviews is the same. Secondly, Google is inconsistent in terms of their enforcement of the rules and the time they take to respond to review takedown requests. There are no guarantees.
With that being said, you can remove Google reviews. Here's how.
First, there naturally must be a valid reason for removal. These include:
Hate speech and cursing
Conflicts of interest
Advertising and spam
The list of valid reasons does not include: any disagreement on fact that you may have with the reviewer. If the reviewer is lying, or if the reviewer mistakenly gave one star to the wrong business - even if this is blatantly obvious - Google will not take down the review.
To proceed with removing the review, navigate to it by searching on Google for your business, and click on your reviews: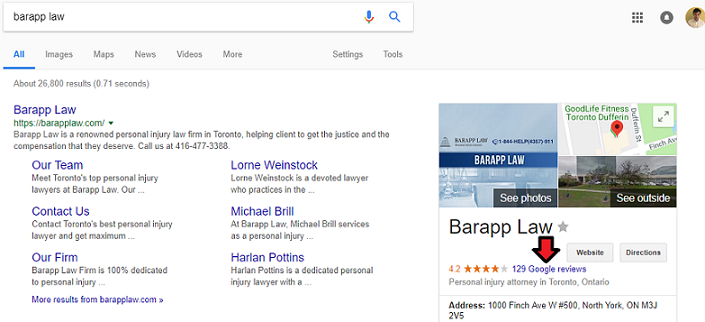 Then, mouse over one of them, and you will see a small flag. Click the flag to report that review.

Now simply select from the list of reasons that you want the review taken down. You may expect that you can do more. However, you can't call Google, and you can't plead your case.
The only additional action you can take to improve your odds of deletion is to persuade others to similarly flag the inappropriate review.
Responding to negative reviews
Why respond to a negative review?
Firstly, because the overwhelming majority of review removals happen because the user took it down, rather than because Google did. And the most likely thing to prompt the reviewer to remove it is that you address their concerns and mitigate the frustration that made them post about you in anger.
At Easy Reviews, we know this better than anyone except Google (if you'll forgive my humility). Our database contains scores of deleted reviews. Reading them makes clear that they were not removed for inappropriate content, but instead were removed by the reviewers themselves. And our experience helping clients with local SEO has shown that it's quite possible to persuade a customer to remove their harsh review.
As long as you don't seem like you're trying to persuade them to remove it. But we'll get to that.
The second reason to respond to an unhappy client is that you aren't just responding to an unhappy client. You are responding to all prospective customers that see the review. Business owners often respond to negative reviews with negativity of their own. But remembering the point of the exercise should mitigate that instinct. You've been heckled by an audience member, but you are responding to the entire audience.
What to say
Your respond should:
1) Be Short
This is important for any public communications. People have short attention spans, and hate large blocks of text. Be succinct.
2) Be professional - no matter what the review is like
The angrier the review, the more important it is for you to remain above the fray. In particular, if you think that the review is factually incorrect, it's vital that you appear authoritative. Internet users will see the angry review and your response, and have to decide whom to trust without knowing either party. A smart reply can mean that users disbelieve the upset reviewer.
Here's a great example, from a firearm supplier: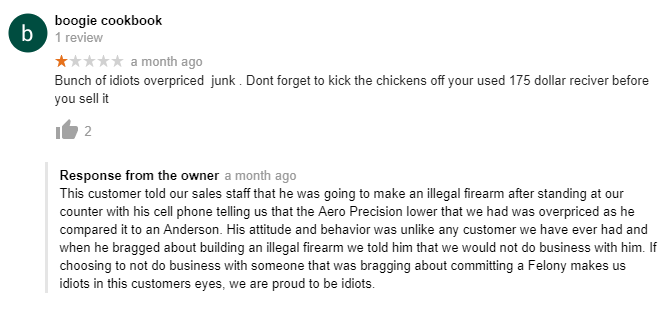 I've don't know anything about either person, but I sure know whom I believe. That's the power of professionalism.
3) Consider paying them back
Think of this as a relatively cheap advertising. Offering the reviewer some company product or a refund is a small price to pay considering all the users that will see your gesture and think well of your business. And a kind offer, seemingly devoid of ulterior motive, is in our experience the #1 most likely way to convince reviewers to remove their criticism.
4) Apologize. Sincerely.
This may be hard to swallow, but try to be open to the possibility that the reviewer has a genuine qualm. Even if they weren't treated unfairly, they may have reasonable grounds for believing that they were.
A sincere-sounding apology will mean a lot to client and prospective client alike - and it takes just a couple minutes.
5) Leave your contact details
This is something that you should almost always do. For one, this offers a seemingly innocuous way to advertise. More importantly though, leaving your contact information and asking the reviewer to follow-up, will make it seem probable to readers that your angry reviewer was turned into a happy one behind the scenes.
It won't always be successful, but a short, smart, friendly reply will prompt some reviewers to delete or amend their review, and many prospective clients to see your business more favourably.
Templates and examples on how to respond to negative reviews
Short, catch-all:
Dear [REVIEWER NAME], I am very sorry to hear about your recent experience at our place of business. I would like to discuss this situation with you in order to resolve your concerns. Please contact me by calling 519-xxx-xxxx and asking for [OWNER NAME].
Short, catch-all:
Dear [REVIEWER NAME], we would like to apologize for your experience at [BUSINESS NAME]. We take pride in the [PRODUCT OR SERVICE] we provide and really hope that every customer is treated like family. We want to make this right - call us at 519-xxx-xxxx and we can talk about making it up to you.
Response to customer reviewing the wrong firm:
Dear [REVIEWER NAME] , I have checked our company records and I cannot find any documentation of an interaction with [REVIEWER NAME]. Is it possible that you have us confused with another [service provider / store / etc.]? In any event, I would like to discuss this situation with you in order to see how we can resolve your concerns. Please contact me by calling 519-xxx-xxxx and asking for [OWNER NAME].
Responding to an unfair review by emphasizing what you do well:
These vary too much to have a simple template, but here is a great example to follow. This is a response from a bar-owner, to a customer that complained about the business' loud music and food quality.